LEL beat-boy

Music Monitors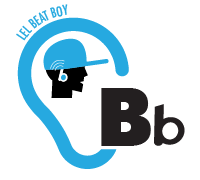 Music Monitors
Bop through the busy streets listening to your favourite beats while being in your own little world with our beat-boy earphones. Listening to music never felt so good and personal.
Our custom earphones give you the best of both worlds: a high quality, personal listening experience with Beats Flex wireless earphones along with that custom fit feeling in your ears.
These plugs create a perfect seal to block unwanted external noise, resulting in better music at lower, safer volumes. The comfortable and secure fit also ensures that you don't have to worry about your Beats Flex earphones falling out when you are on the move.
Choose from either a canal-tip fit (for a more discreet look) or a full shell fit (for a more solid feel).
✔ Beats Flex Wireless Ear Monitors: High fidelity music transmission with up to 12 hours of listening time for on the go enjoyment in supreme comfort.
✔ Connectivity Wirelessly share audio with Beats Flex and another set of Beats headphones or Airpods with Audio Sharing; Android compatible also.
✔ Medically-graded Silicone: Medically approved, preventing skin irritation when in use.
✔ Easy to Clean: Using our cleansing wipes or spray.
✔ High Quality Finish: With a wide range of finish options combined with excellent craftmanship we offer some of the highest quality finished earware in the industry.
✔ Occlusion Effect: The deep and custom fit of the plug is designed to help reduce the distortion of your own voice.
✔ 1 pair of custom moulded beat-boy plugs
✔ 1 pair of Beats Flex Wireless earphones
✔ Carry pouch
✔ Care leaflet
✔ Ear comfort cream
✔ Wax pick
✔ Regular earphone users
✔ Exercising to music
✔ Commuting to work
✔ Music lovers