About Us
Our Story
We at London Ear Lab are passionate about all things to do with ears. Our purpose-built, state of the art laboratory houses our unique, forward thinking team that includes clinical audiologists, lab technicians, graphic designers and even a part-time fashion consultant. Having such a wide array of professionals working under one roof with the latest materials and technologies at their disposal ensures that we take a truly holistic and innovative approach in everything that we do and create.
Our aims are clear, not only do we strive to ensure all our products look great and are supremely comfortable, we also pride ourselves on obsessive attention to detail and stringent quality assurance processes to guarantee that our products are also providing the right level of protection and performance. In addition, we have a specific focus on R&D, and continually review our processes and offerings to maintain optimal functionality and cutting-edge performance.
Being one of the only London based custom in-ear laboratories, we benefit from being located in the heart of innovation and high fashion, and combine our natural trend-setting surroundings with traditional British workmanship to achieve the perfect result every time.
We also regularly exhibit at various events across the country so make sure to pop by and say hello to our friendly team if you ever spot our stand when you are out and about.
We truly are specialists in the production of premium in-ear performance and protection solutions. So whether you need protection from harmful loud noise, have trouble with water getting in your ears, or simply would like stylish personalised earphones, rest assured we have the ideal bespoke solution for you.
Our Clients
In addition to our online retail service, we also routinely work with TfL, the NHS, leading independent healthcare providers and a number of private organisations including major international TV broadcasters for their custom in-ear needs.
Some of the brands and organisations that we work with:

Quality Assurance
London Ear lab has been assessed and approved by QMS International for our Quality Management Systems and Standards, and gained full ISO 9001:2015 certification, attesting to quality processes being followed with specific focus on the production and supply of customised ear products.
London Ear Lab is also one of the only UK based laboratories that has obtained full EC Type examination certification for our noise protection products per PPE Directive 89/686 and the new PPE Regulation (EU) 2016/425, which comes into effect from April 2019.
So don't just take our word for it, the premium quality of our products and service are both fully certified!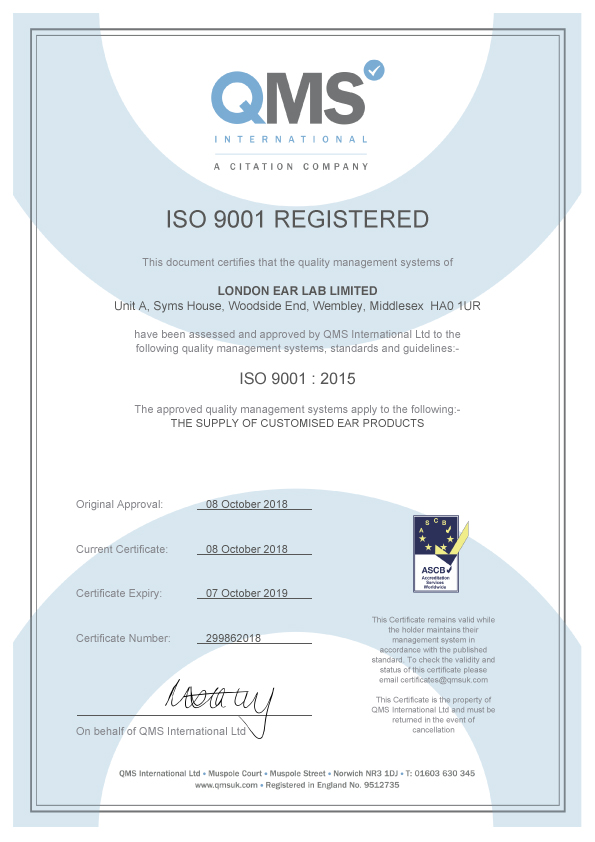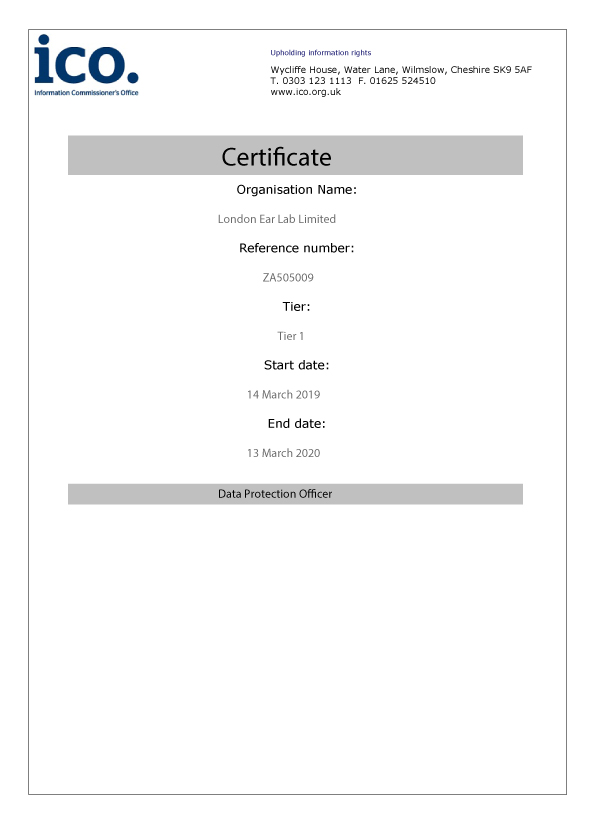 Company information
London Ear lab is a trading brand of London Ear Lab Ltd
Company No: 10303361
Registered address: Unit A Syms House, Woodside End, Wembley, Middlesex, United Kingdom, HA0 1UR