LEL Solidz

Solid Noise Limiting Plugs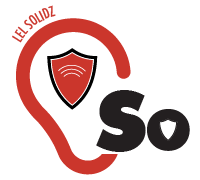 Solid Noise Limiting Plugs
Sometimes you just need a little time out from all the noise. Whether it's because its too loud, affecting your concentration or just plain annoying, being able to limit noise can make all the difference to your wellbeing. Our Solidz plugs allow you to do just that–whenever, wherever.
Solid noise plugs provide the maximum level of noise reduction with the comfort of a custom fit product.
These versatile plugs allow for full concentration on the task at hand while reliably protecting hearing at the same time.
**To ensure the appropriate level of noise protection is being achieved when using these plugs, users are required to visit their audiologist once they have received their plugs for in-situ verification–please visit our Hearing Protection Check PPE page for further information**
✔ 30dB SNR: Maximum level of noise attenuation with a custom fit product.
✔ Easy Handling: Handle in plug to aid insertion and extraction.
✔ Medically-graded Silicone: Medically approved, preventing skin irritation when in use.
✔ Easy to Clean: Using our cleansing wipes or spray.
✔ High Quality Finish: With a wide range of finish options combined with excellent craftmanship we offer some of the highest quality finished earware in the industry.
✔ Occlusion Effect: The deep and custom fit of the plug is designed to help reduce the distortion of your own voice.
✔ 1 pair of custom moulded Solidz plugs
✔ Carry pouch
✔ Care leaflet
✔ Ear comfort cream
✔ Working or studying in noisy surroundings